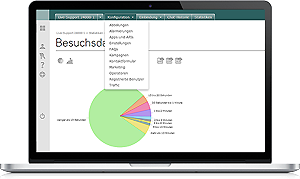 More Conversions - More Sales
Live Chats maximize your conversions, increase the average order values and lower the return rate.
Outstanding Service and Support Feature
Live Chats create trust, deepen customer relationships and solve problems, as long as the problems remain small.
What are the main features?
Answer any questions from your visitors easily via chat, regardless of whether they are made via PC, smartphone or tablet.
Invite your visitors either manually or automatically to chat according to individual criteria.
Proven for more than twelve years
in small and large companies, with more than 200 features
Programmed and Hosted in Germany
With deeply integrated visitor analysis
and an automatic display of the most relevant visitors, ideal for supporting only potential customers
With additional support via Live Chat at least part of the costly telephone support can be saved.
The benefits when using the detailed success monitoring is especially high for online shops.